Posted by Johnnie Sanchez on 2016-12-18
This Home Assistant is...a Holographic Girl
This Japanese home assistant is a girl named Azuma. Think of her as technology designed to rival the likes of Alexa and Siri. This holographic girl lives in a jar when her services aren't required. To most people (or at least to me), she comes off as a little creepy. Maybe she isn't so creepy over in Japan. Remember, Hatsune Miku, the holographic singer, also comes from Japan, and she's practically become a worldwide phenomenon since her debut. Could Azuma be the next big thing?

Gene Munster Predicts iPhone's Potential Replacements
Gene Munster is a researcher who has written over eight hundred research notes on Apple. Munster is scheduled to begin a new career in venture capital by the end of the year, but in his most recent note about Apple, he predicts that in about five years, "Apple could develop some type of AR or MR wearable that ultimately replaces the smartphone." Could this goal be realized in less than five years? Only time will tell!

Turning an Old Playroom Into a New Home Theater for the Holidays
Last year a team of integrators, led by David Huse from Theater Advice, turned a stark white, scarcely used playroom into a home theater for three little boys and their family for the holidays. This home theater is complete with two 40-inch Samsung TV's and the convenient Control4 home theater processor. What does the family want this year for Christmas? According to Huse, possibly an Amazon Echo, given that most of their "Control4 customers have been requesting Amazon Echo and Dots so they can use voice commands to control lights and other aspects of the house."

Crestron Room Scheduling Becomes an App
And not just any app: a stand-alone app! The app is currently available and allows people to connect directly to Microsoft Exchange or similar programs in order to make impromptu meetings on panels outside of rooms or find open time slots on calendars to book the space for future meetings.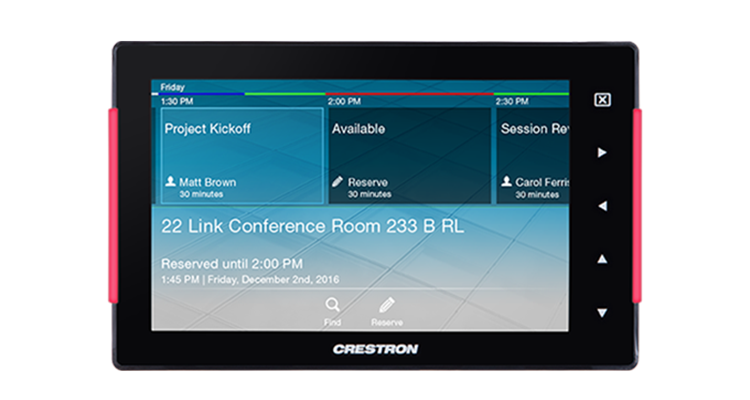 California Becomes First State to Set Energy-Efficiency Limits for Computers
Hooray for environmental awareness combined with technology! California has become the first state to adopt efficiency standards for computers and monitors. According to the state's energy commission, regulations have been approved that will limit the amount of energy that computers and servers can use when they are idle or off. The commission estimates that computers in the state currently use about three percent of residential electricity use. The limits will go into effect over a three-year period beginning in January of 2018. Keep in mind that even though this is just one state, it is a large state, and these new regulations could save a lot of energy and money.