Posted by Johnnie Sanchez on 2016-11-21
Author: Christa Bender
The meeting spaces and conference rooms of today need to keep up with users who want to get the most productivity out of their meetings. To do that successfully, the room needs to be outfitted to allow users to bring their own devices (BYOD) and connect to the room's audio visual system and collaboration without cables.
What is wireless presentation?
Wireless presentation is when you are able to use your own device - a laptop, smartphone, or tablet - to present and share content in a meeting without connecting cables to your device. When you are in a meeting room that supports wireless presentation, you are able to present your content which could include pictures, screen shots, text documents, PDFs, and other content to enhance your presentation.
What types of rooms benefit from wireless presentation?
Many types of meeting spaces can benefit from wireless presentation. Huddle rooms, scrum rooms, interactive collaboration spaces, conference rooms, boardrooms, and lecture halls can all include wireless presentation into their audio visual systems.
Huddle rooms are often used for quick meetings with 4-5 participants in the room. These rooms can include the actual people in the room or meeting participants at the far end of a video or audio conferencing call. Wireless presentation will allow the participants to quickly and easily share their content with each other.
Scrum rooms include small teams that work on projects that require intensive concentration. These teams are often operate separately from other teams or departments. With the team always working together in the same room, they need to have the ability to collaborate quickly and efficiently to move their project along to meet their completion deadline. Including wireless collaboration with the room's display will allow the team to collaborate and move their project forward in the same room without having to find a separate meeting room that has audio visual capabilities.
Interactive collaboration spaces are located in corporate and education institutions. They can be lounges, student centers, or even the cafeteria. These spaces are created for people to relax and have the ability to share information or hold an informal ad-hoc meeting. These areas typically already have displays hanging on the wall, all they need is a wireless presentation system to allow content to be shared. After all, not everyone always has the connection cables they need to share their content.
Conference rooms and boardrooms are larger, more sophisticated versions of huddle rooms. These rooms can seat 6-20 people and often allow a laptop to connect to the audio visual system via cables located in a cut-out in the table. Having these wired connection points are great, but why not make the room even better with wireless presentation capabilities? Incorporating wireless presentation into your conference room or boardroom will allow every participant the chance to present during the meeting, not necessarily at the same time, but they will not have to be concerned with connecting multiple laptops, accessing multiple USB flash drives, or finding the saved meeting content on a shared drive. If the meeting participant can access their content on their device, they can share it wirelessly when it is their turn to present.
Lecture halls are another meeting space that can benefit from a wireless presentation system. Most lecture halls only have one connection point and that is located at the lectern at the front of the room. Most lecterns will provide you the option of connecting a laptop, USB flash drive, or accessing the in room PC for your content. With a room that could hold 30-200 people, the amount of time for each presenter to connect their device and present their content at the lectern will take up valuable time. Implementing a wireless presentation system will allow the participants to share their content whether they are standing at the front of the room at the lectern or from their seat onto the room's projection display. This will save time and allow less downtime between presenters.
What wireless presentation system should you choose?
There are many wireless presentation systems to choose from professional audio visual manufacturers - that is not even considering the consumer options! What are some professional wireless presentation solutions? Crestron and Extron both provide excellent wireless presentation solutions that can be used in corporate or education meeting spaces.
The Crestron AirMedia allows up to 32 people to connect to one AirMedia at the same time in the same room. With a simple push of the "show me" button the participants can share content from their Mac, PC, Android, or iOS devices. Up to four presenters can share content simultaneously on the same display, allowing for easy collaboration.
There is a moderator mode that allows the main presenter or instructor to control the content being shared, which eliminates the chaos of multiple presenters trying to share at once. With the remote view option you never have to worry about sitting in the back of the room and missing half of the content. It allows up to 40 meeting participants to pull up the shared content via a web browser.
If you already have Crestron devices located throughout your facility, the AirMedia can communication with your existing Crestron control system and Crestron Fusion software so that it can integrate into your enterprise building management solution. The AirMedia can be used in huddle rooms, scrum rooms, interactive collaboration spaces, conference rooms, boardrooms, and lecture halls.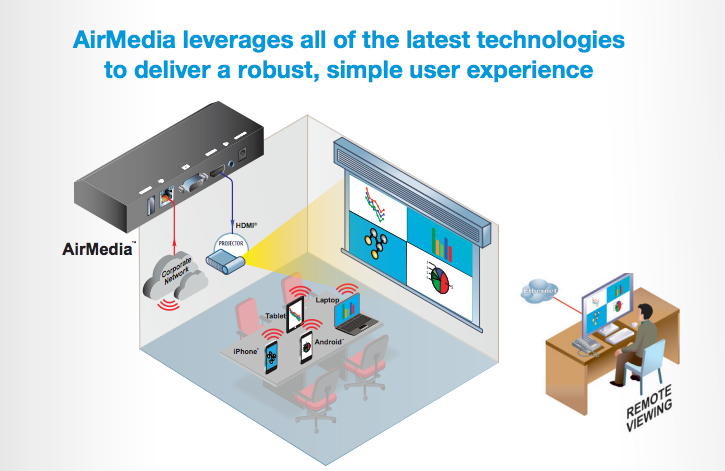 The Extron ShareLink 250 Series allows up to four devices of slides, documents, graphs, and photos to be displayed at the same time. The ShareLink 250 Series supports Microsoft Windows and OS X computers as well as Apple and Android smartphones and tablets. There is a moderator mode to control the content that is shared as well as a mode that allows you to access the content via a web browser in case audience members are unable to to clearly see the content on the room's display. The ShareLink 250 Series can be used in huddle rooms, scrum rooms, interactive collaboration spaces, conference rooms, boardrooms, and lecture halls.
Working with a professional systems integrator can help you implement the best wireless presentation system for your meeting space needs.